ARTICLES
"Give Us Your Organs, Please."
by Jeff Shapiro, May 1997
Two hours, 28 minutes and 39 seconds for a 12 K... it was the slowest race I had ever run. Is there a term in running that implies the opposite of a "PR"? How about "WR" worst race? What had gone wrong? Would I be forever embarrassed when they printed my name in the sponsoring newspaper as second to last in a running event with 75,000 participants? Would I be forced to retire from running at such an early age? Nothing had gone wrong. I had run the race of my life.
Race Day
At 6:30 am, we arrive at the designated site 2 blocks from the race start. The air is electric. This is what we have trained for. The new shirts are being distributed to the team. They are perfect. Of course, after hundreds of phone calls, emails, faxes, and redesigns, they should be perfect. Stanley Miller, liver recipient and artist for the Grateful Dead created the art. Team members are listed on the back. We look great.
Where is Joe Ault with the gear? 7 am and still no Joe. Six months of preparation and we are going to miss the start? "Is everyone ready? Let's warm up, " I tell the team.
The truck arrives and we spread out the equipment as an event official warns that we have to move now to our elite starting position. "Give us just 5 minutes," I plead as we unroll tubing and fasten tie wraps. "Let's go," orders the official and we wind our way to the starting line. Joe, still attaching parts, sprints to join us before we disappear into the crowd. One last delay as the television crew interviews our team captain. An elite woman runner is doing aerobics as a warm up next to me. "Please don't slow us down," I tease. She smiles nervously, eyeing the orb towering above me.
I realize we are in trouble already. The official has stretched us across the road like ducks crossing a freeway with traffic eerily halted for the occasion. Headlines flash in my mind, "18 Trampled at Bay to Breakers, Bodies Unrecognizable." I scramble forward and the team falls in behind changing our orientation. "How do you feel, Matt?" He beams a smile back at me. Matt received a heart lung transplant 6 months ago, and he is ready. We all are. The gun sounds.
The Adventure Begins
My running friends have always complained that I start too fast. This race is no exception. I am usually able to maintain a fast pace for a few miles before crashing, but here I am at the half-mile mark and already fatigued. Am I going to let my team down? My thoughts flash back to our improbable beginnings.
After obtaining permission from 7 counties, 36 cities, 40 law enforcement agencies, the Golden Gate Bridge Commission, Caltrans, the National Park Service and 40 private property owners for the Golden Gate Relay, "California's Longest (197 mile) Party," we have proven that a long distance, 12-member team relay can succeed in the Bay Area. When KPIX 5 ( CBS) agreed to be a sponsor, little did I know that I would end up at the head of such an amazing insect in another race. In return for television promotions for the Golden Gate Relay, I had promised PR Director Lance Lew to provide 13 runners to run as a centipede in the Bay to Breakers. Since KPIX 5 also sponsors the Bay to Breakers, Lance wanted his team to win. What had I agreed to?
It was well known that the Power Bar Centipede always won the Bay to Breakers, beating the female winner of the race in the process. I had never beaten an elite female runner in the Bay to Breakers (or come close), but now I had promised to captain a centipede capable of beating the Power Bar team.
An Excellent Alternative
We had invited organ and tissue recipients from around the country to run 197 miles on a 12 member team in the Golden Gate Relay to spread the message about the critical need for organ donors. The transfer of the baton from runner to runner symbolized the transfer of an organ from donor to recipient. So how about a 13 member organ recipient centipede for Bay to Breakers?
The Message
And here we are in the Bay to Breakers with an 18 member centipede named Organs R Us plus a 50 member entourage of family members and friends. We are young, old, healthy, sick, runners and walkers. Looking at the course ahead I wonder, "Will this team make it?"
A cry of "slow down" travels from behind just as my arms tire from holding the 3-foot-diameter eyeball 8 feet in the air. I wonder how Joe is doing holding the heavier 4-foot heart at the rear. He has spent months carving the organs out of styrofoam. Joe made the heart heavier than the eye so I decide it is his problem. Thankfully, he is 60 feet behind me, well out of reach for mid-race organ transplants.
As we approach the first mile marker, I notice a man taking pictures of us from all angles. "I am visiting San Francisco from the east," he explains. "You guys are the best thing I have ever seen. I work for the United Network for Organ Sharing and I am taking these pictures back to our national office." What a nice show of support I think, as he disappears into the crowd. This is only the beginning.
The San Francisco Examiner article that appeared 3 days prior to the race described us as "the most unique team to run the Bay to Breakers in its 86 year history." This is quite the accolade in a race where costumes (or lack thereof) are more important than finish times.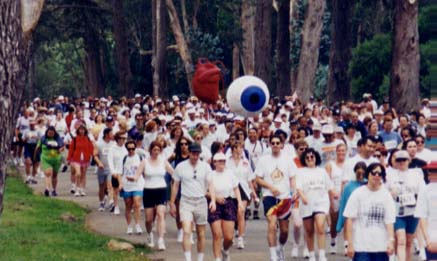 The crowd knows what we are about. It is hard to describe the feeling of being passed by 75,000 runners all offering support. We create a chant to march cadence:
Hear our message, we are bold.
Organs can't be bought or sold.
Give your organs when you're done.
Save a life, it's why we run.
Sound off - organs, eyeballs, kidneys, livers, hearts, lungs....
The crowds cheer so we chant louder. A runner passes and lifts his shirt revealing a scar from having donated a kidney to a family member. A woman approaches in tears and tells of her daughter who died recently and donated her organs. This endeavor is a strange mix of frivolity and impassioned encouragement.
A group of naked runners overtakes us. "Eyes ahead," I command. "Those are not the kind of organs we are promoting."
It is hard to look behind and stay on course, but I love the view. There is Captain Audrey Cook, chanting as loud as possible. "I am planning for something that I had not given much thought before: my future," she tells me knowing her double organ transplant saved her life. And there is 10-year-old Kelly, liver recipient at age 2, holding the red and blue tubing (symbolizing arteries and veins) connecting the lead eyeball with the heart in the rear.
As others join us along the way, the centipede grows. I remind two enthusiastic young girls that pulling on the tubing connected to the back of the eyeball jerks the eye (and my back) backwards. They finally see the connection.
Imagine a race with 1,000 to 2,000 people at every water stop. To avoid entanglements, we veer away from the stops and the entourage relays water to the team.
Carolyn Berry is ahead on the sidelines with her camera. This wonderful woman had the donation banners that we carry printed in 3 languages. I smile as she loses focus hearing the centipede chant for the first time. She is grinning and crying at the same time.
Give Us Your Organs, Please
Stopping along the way for pictures and interviews with the media does not help our finish time. Recipients Alex, Amy and Gabrielle articulate the organ donation message powerfully to the television audience.
"Give us your organs," I blurt out to one of the TV cameras. What a crude thing to say I think. Oh well, this is the zaniest race in the world. Of course, KPIX 5 aired that statement for the next 3 days between clips of The Deck Chair Drill Team and The Boxing Nun.
As I later watched myself on television, I wondered why I had made that statement. Memories of my days as director of the Critical Care Transport Service at the university hospital fill my thoughts. I organized "donor runs," sending teams in Lear jets to recover organs to be used for transplantation. I know the precision timing, the coordination and the numerous details necessary to complete a successful heart transplant.
I have talked to donor families consumed with grief and remember times when a family member hesitated to go ahead with the donation." The patient waiting for this heart could die if you change your mind," I thought to myself as I watched a family left without direction struggle to make the right decision. And far away, the critically ill prayed for the gift of life. How could I be angry with a family who was doing their best to deal with the sudden loss of a loved one?
But I was. I realized that I was letting out years of frustration with my comment to the television camera. It was so simple. Think about organ donation and let your family know your thoughts. Don't make them guess during such a difficult time.
The Organs 'R' Us Team
Mike Corbitt is running in honor of his 2-year-old daughter Delaney who has been waiting for a kidney transplant since birth. And there is Paul McVetty. Paul is waiting for a liver transplant. Although ill, he finds the energy to join us with the support of his wife Minda. "I want to give now so I feel good when someone gives their liver to me," Paul told me the day before the race as we handed out organ donation information from the booth at the Expo. Paul knows that his survival depends on an organ donor.
Wendy Marx tells of Carl Lewis coming to her bedside while she was in a coma waiting for a liver. The Wendy Marx Foundation now works to increase public awareness regarding the need for organ donors.
Every member of our team is a unique story. "The members of this team have endurance training that most athletes do not understand," I tell KPIX. "They train on a daily basis to face a life threatening illness."
The Big Finish
The cool mist from the ocean signals that we are nearing the end. We know that we will finish and the excitement is building. I look tired. Femi Sonuga, a Nigerian runner and former program coordinator for the Leukemia Society's Team in Training, has recently joined our group and offers to carry the eyeball. "Just carry me," I reply refusing to give up the lead in the pede.
We are already talking about next year's race. Engineer/inventor David Pariseau is promising lights and organs with moving parts, high tech all the way in the Silicon Valley of Oz!
We chant our way across the finish to the amazement of reporters and photographers. Young Kelly tells the cameras that she is hungry so we march the mile up the hill to the Footstock post-race festival. As the Channel 5 booth looms into view with its 20' by 30' inflatable TV screen, I unintentionally step up the pace which whips the tail of the pede as we wind through the crowd. "Slow down," sounds again from the rear.
I tell Lance that we lost the race but captured the event. He is happy and he laughs when I show him the CBS eye that we velcroed to the back of the 3-foot eyeball. Nearby, paramedics take pictures of one another next to the heart.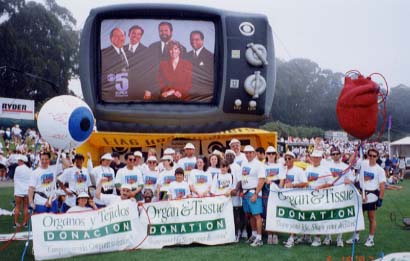 First Prize
Organs R Us wins the Bay to Breakers Centipede Costume Contest. First prize is a plane ticket for each recipient. This seems unimportant since each participant has already received a gift of life. This team has taught me what can be accomplished through running by representing the 50,000 people, including 2,000 children who are currently waiting for organs. Organs R Us sends a powerful message to northern California that organ transplantation works and saves lives. In September, they will deliver this message to the nation by running 197 miles through 36 cities.
2 hours and 28 minutes was a personal worst and my best race ever.
Jeff Shapiro is the coach of the Channel 5 Organs R Us Centipede. To join this team, contact 650.508.9700 or organs@TheRelay.com.