ORU EVENTS - RUN, WALK, RIDE OR VOLUNTEER TO SAVE A LIFE
ORGANS R US (ORU), PROMOTES DONATION THROUGH ATHLETICS.
Since 1996, ORU has generated publicity promoting the need for organ donors worth $25 million. Join ORU in support of 125,000 Americans waiting for organs.
RAISE MONEY FOR ORU (independent of GGR) AND RECEIVE A FREE ENTRY TO
Bay to Breakers (May).
Sevathon Half Marathon/10K/5K(July).
San Francisco Marathon (July).
Sydney Marathon (September) and other races with Amazing Running Tours.
Rock n Roll San Jose Half Marathon (October).
Silicon Valley Turkey Trot (November).
California International Marathon (December).
Christmas Relays (December).
RUN OR WALK FOR YOURSELF OR YOUR FAVORITE TRANSPLANTEES:
Heart recipients: Robert Altman, Robert Casey, Dick Cheney, Jonathan Hardy, Eddie Large, Kelly Perkins, Jerry Richardson.
Kidney recipients: Steven Cojocaru, Natalie Cole, Gary Coleman, Lucy Davis, Kenny Easley, Aron Eisenberg, Sean Elliot, Ken Howard, Ivan Klasnic, Jimmy Little, Jonah Lomu, George Lopez, Tracy Morgan, Alonzo Mourning, Neil Simon, Charles Perkins, Billy Preston, Ron Springs.
Liver recipients: Greg Allman, George Best, Jack Bruce, Robert Casey, David Crosby, Shelley Fabares, Freddy Fender, Billy Graham, Larry Hagman, Steve Jobs, Evel Knievel, Chris Klug, Phil Lesh, Linda Lovelace, Mickey Mantle, Jim Nabors, John Phillips
TRANSPLANT RECIPIENTS/CANDIDATES MAY CONTACTORU TO RECEIVE A FREE ENTRY
to Bay to Breakers or Christmas Relays. Transplant families are invited guests to the Golden Gate Relay which includes lunch at the finish with a view of the ocean.
Golden Gate Relay "California's Longest Party"
is the "largest event in the world promoting organ donation." Run Calistoga to Santa Cruz, walk Marin to Santa Cruz, or volunteer. 12-member teams run through 36 cities or walk through 28 cities and across the Golden Gate Bridge. The transfer of the baton from runner to runner symbolizes the transfer of an organ from donor to recipient. Volunteer at the start in Calistoga, the finish in Santa Cruz or along the way. Transplant families are encouraged to consider a dedication.
Bay to Breakers in San Francisco
Meet at Steiner St. and Grove St. at 7:30 am. Children and adults are invited to walk 3 miles in the world's largest and wackiest footrace. In 1997, the San Francisco Examiner claimed the ORU Centipede was the "most unique group to run the Bay to Breakers in its 86-year history." Centipede members won tickets on Southwest Airlines for winning the Costume Contest. The ORU Kiddie Pede has a blast following the giant eyeball and delivering the "Gift of Life" message to 80,000 athletes. In 2002, Miranda Ashland (age 8) told Channel 7 viewers about her liver transplant at 6 months. Molly Ashland counted 92 naked runners and told KGO Radio listeners "we don't need those organs!" View press release.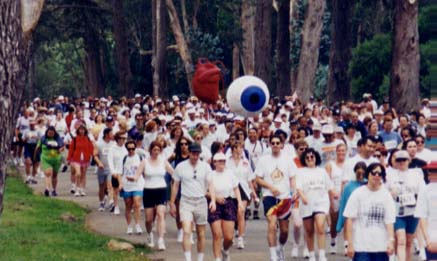 San Francisco Marathon
Volunteer at the ORU booth on Fri. or Sat. during the Expo or run on Sun. through the streets of San Francisco.

San Jose Rock n Roll Half Marathon
Volunteer at the ORU booth on Fri. or Sat. during the Expo or run on Sun. through the streets of San Jose. In 2006, the Monica family - Martin (kidney recipient), Emma (kidney donor), Marina (kidney recipient) and Jeff (kidney recipient) appeared on NBC to deliver the ORU message.

California International Marathon in Sacramento
Volunteer at the ORU booth on Fri. or Sat. during the Expo or run on Sun. from Folsom to the steps of the Capital.

Christmas Relays in San Francisco
Join Gilda Vallente (kidney recipient), Jodie Hang (heart recipient), Chris Domine (kidney recipient) and Isabel Stenzel Byrnes (lung recipient) on a 4-person relay team for a 4.5 mile loop around Lake Merced. Don't forget your Santa hat!

Wishing you good health and chestnuts roasting on an open fire.



Thanks to our sponsors
NBC 11, KGO Radio, Anomaly Design, Bay to Breakers, California International Marathon, ColorTone Digital, San Francisco Giants, San Francisco Marathon and Silicon Valley Turkey Trot.