SAN FRANCISCO, CA, May 1, 2018 What is 60 feet long with a giant eyeball, a 4-foot heart and 26 tiny feet? No, it is not a monster in a horror movie, but the Organs R Us (ORU) Kiddie Pede. During Bay to Breakers, 13 organ recipients, ages 1 to 16, will showcase their fitness as a children's centipede demonstrating that transplantation saves lives.
"The ORU Centipede is the most unique group to run Bay to Breakers in its 86-year history," proclaimed the San Francisco Examiner on May 14, 1997, the year that "pede" members won tickets on Southwest Airlines by capturing first place in the Centipede Costume Contest.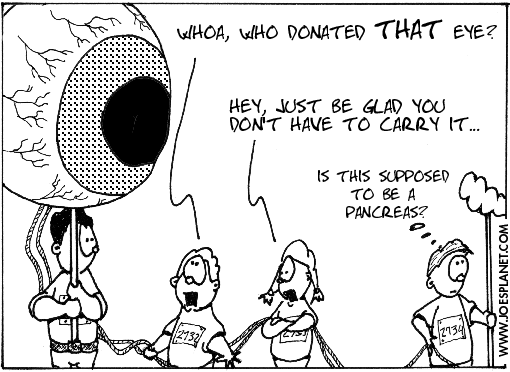 Facts
Less than half of potential organ donors actually donate.
Every 17 minutes, an American is added to the waiting list.
Every 45 minutes, American's decide whether a loved one's organs will be donated.
Every 90 minutes, an American dies waiting for an organ transplant.
ORU kids are on a mission and represent 125,000 Americans (including 2,500 children) waiting for organ donors. "The message is urgent since 20 people die each day due to the shortage of organs, " explains coach Jeff Shapiro. "These children have endurance that many athletes do not understand because they train on a daily basis to battle a life threatening illness."
Kiddie Pede Team Profile. Children hold red and blue cables representing arteries and veins connecting the giant eye with the heart in the rear carried by Ultramarathon man, Dean Karnazes. Dean has run more than 2000 miles for organ donation and has been featured in Runner's World, Time Magazine, Marathon & Beyond and on David Letterman, 60 Minutes and 20/20. Dean has dedicated solo 199-mile runs to six-month-old Elizabeth Wood, eight-month-old David Mehran, six-week-old Valeria Sanchez and eight-year-old Katie Grace Groebner. Dean dedicated the first ever 350-mile solo run to two-year-old Katalina Thang who waited for a heart lung donor. After Dean's runs, Elizabeth, David, Valeria, Katalina and Katie Grace received new organs.
Kiddie Pede Captain Jodie Hang
from San Jose, who received a heart transplant at 10-days-old, bellows the ORU chant (to march cadence):
"Hear our message, we are bold. Organs can't be bought or sold.
Give your organs when you're done. Save a life, it's why we run.
Sound off - organs, eyeballs, kidneys, livers, hearts, lungs...."
The kids counted 92 naked runners (from the back) during one Bay to Breakers. "We don't need those organs," Jodie said during an interview.
Katie Grace Groebner
(born 7/16/02) of Mankato, MN, returns to Bay to Breakers after receiving a new heart and lungs on 6/14/14. The Groebners moved to Clayton, CA to begin treatment in the Bay Area.
Four-year-old Katalina Thang
(1/5/04 - 1/11/09) of San Jose, participated in four Bay to Breakers! After waiting more than 2 years,
Katalina
received a new heart and lungs on September 4, 2006. Although she was too ill too get out of her stroller in 2005 and 2006, Katalina sprinted during the 2007 and 2008 Bay to Breakers.
Shawn Stockwell
(born 8/10/98) of Eagle River, AK, asked, "How did everyone know my name," after crossing the finish of his first Bay to Breakers. Shawn forgot about the sign on his back, "Shawn, needs a new heart, if you don't make the finish, please donate your organs." After enduring six heart surgeries, Shawn waited more than two years before receiving a new heart July 31, 2008. During the Golden Gate Relay, more than 3,000 runners and walkers traveled 191 miles in a race dedicated to helping
Shawn
find a new heart.
Mom Saves Baby James.
When his condition deteriorated rapidly, Julie Tovar donated part of her liver to her infant son James Burger (born 9/26/98). James of Albany, CA, will join the centipede for his ninth Bay to Breakers.
Samantha Receives Gift from Dad.
When the wait became too long, Derrel Blair of Sacramento donated part of his liver to his 6-month-old daughter, Samantha, in the first Bay Area living related liver transplant. Derrel and Samantha run with ORU to remind others to consider organ donation.
Delaney Inspires the Golden Gate Relay.
As a three-year-old who waited for a kidney transplant since birth,
Delaney Corbitt
of San Leandro received her gift of life in 1997, just 2 weeks before 2,500 athletes ran 191 miles through 36 Bay Area cities in the Golden Gate Relay, a race dedicated to her. While runners crossed the finish line of The Relay, President Clinton signed a shirt for Delaney at Stanford Hospital.
Gilda Vallente
of Daly City received two kidneys in February 2006 and walks with the centipede. During the
Golden Gate Relay Walk
, Gilda's husband, Raaj Gopal, walked 128 miles solo for Gilda.
ORU kids run in memory of ORU members heart lung recipient, Katalina Thang (passed in 2009), liver recipient, Wendy Marx (passed in 2003), liver recipient Lori Gardner (passed in 2003), wife of former San Francisco Giants pitcher Mark Gardner, and transplant candidate Paul McVetty (passed in 2001) who waited for a liver.
Save a Life with the Gift of Life Show support along the way as the Kiddie Pede with an entourage of family members and friends, sends a powerful message. If you have never thought about being an organ donor, you will see 13 of the cutest reasons to consider discussing your personal wishes regarding organ donation with your family.
Organs R Us, is sponsored by the NBC, Bay to Breakers and the San Francisco Giants. ORU members are available for interviews before the race (7:30 am) at Grove and Steiner (mile 3) and during the Footstock post-race festival.